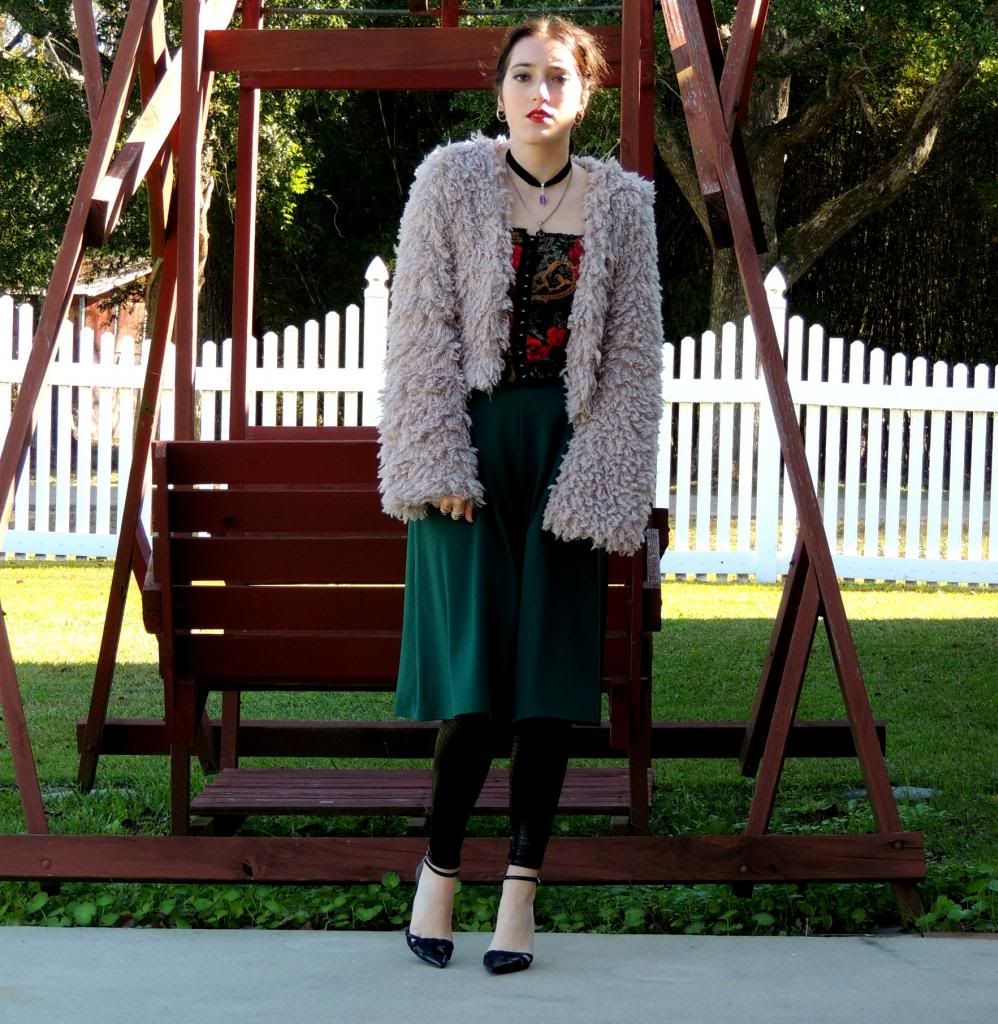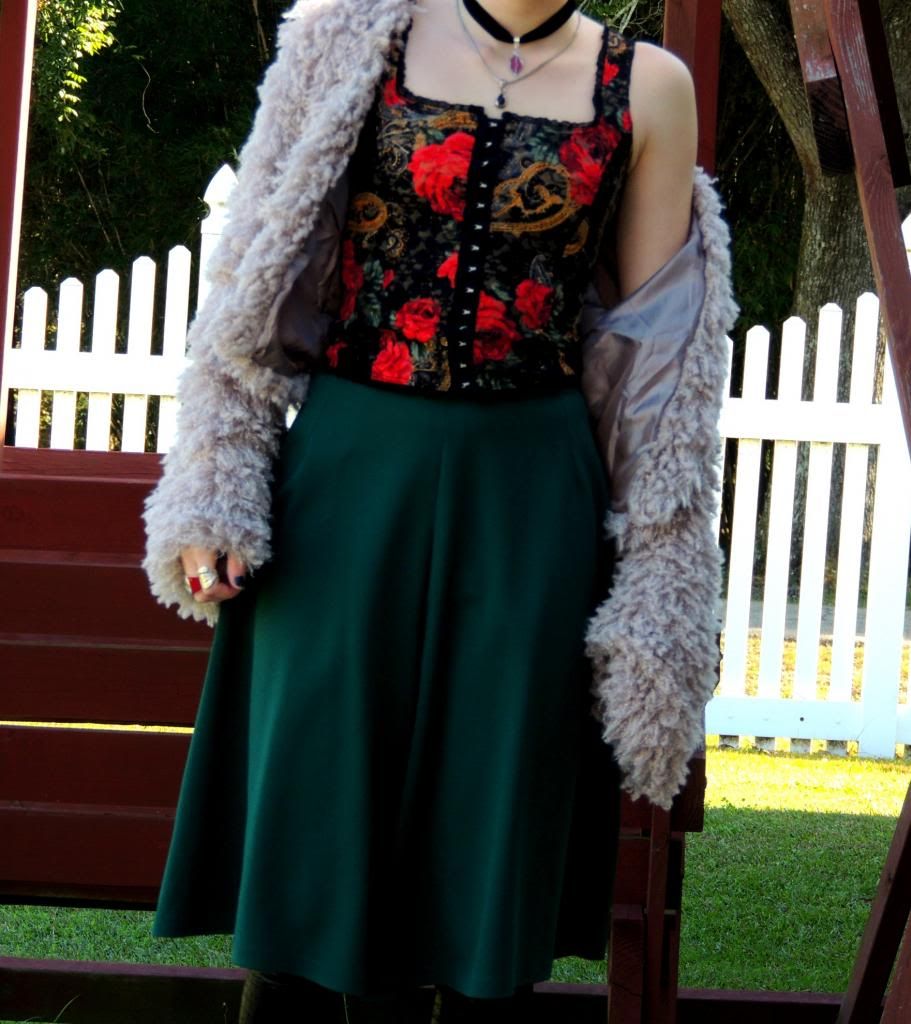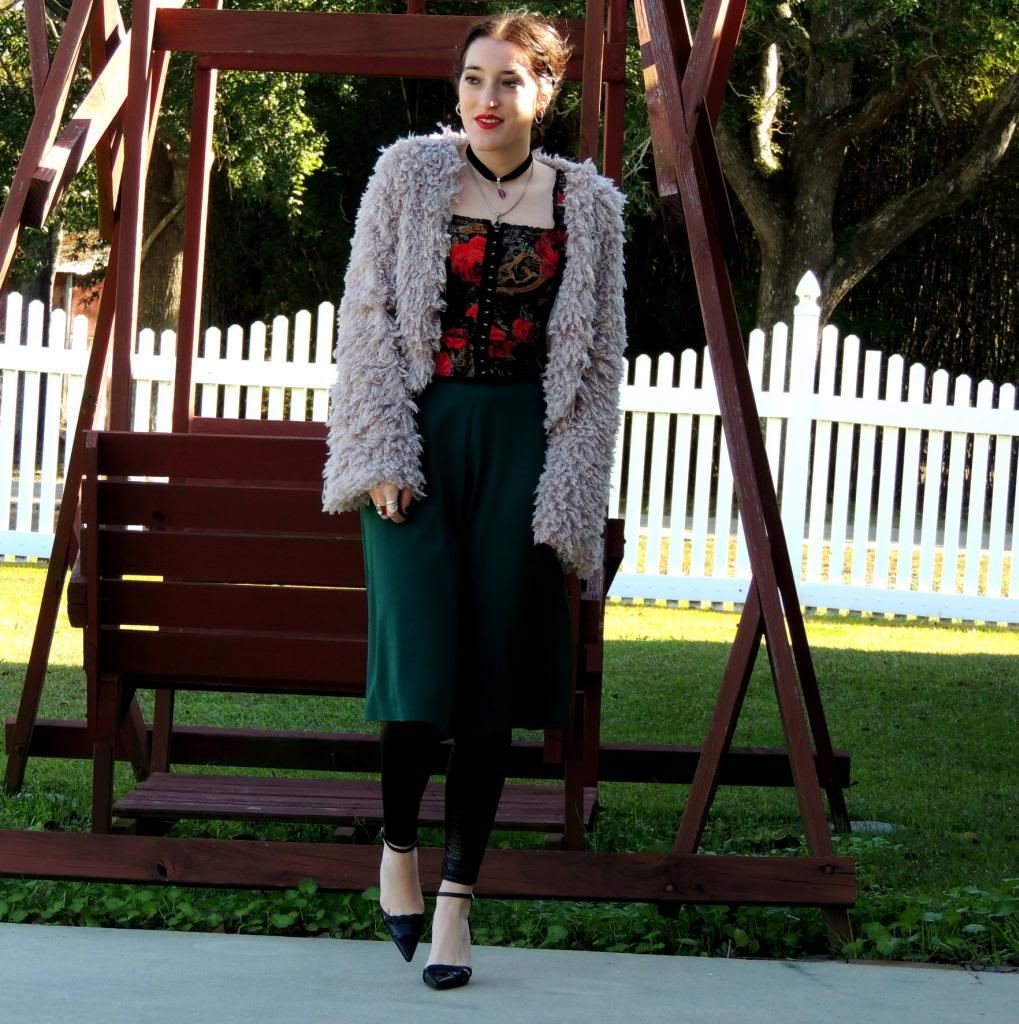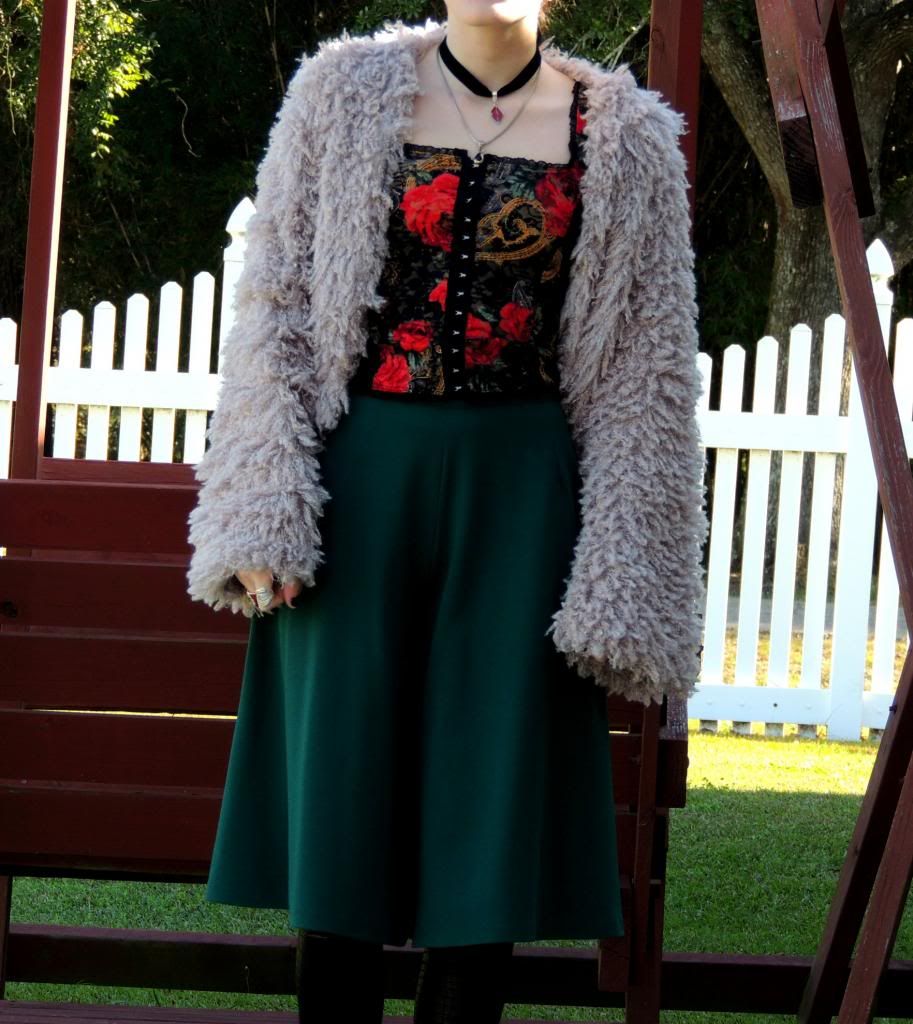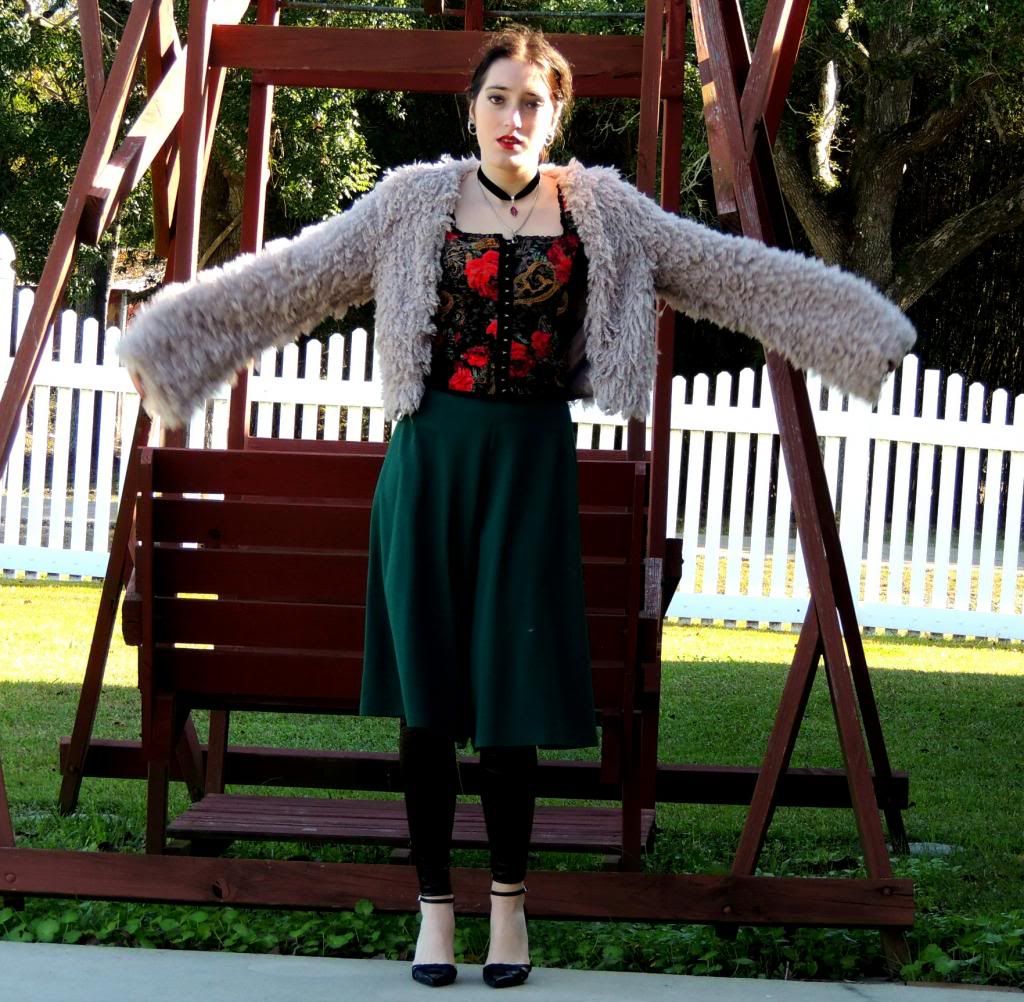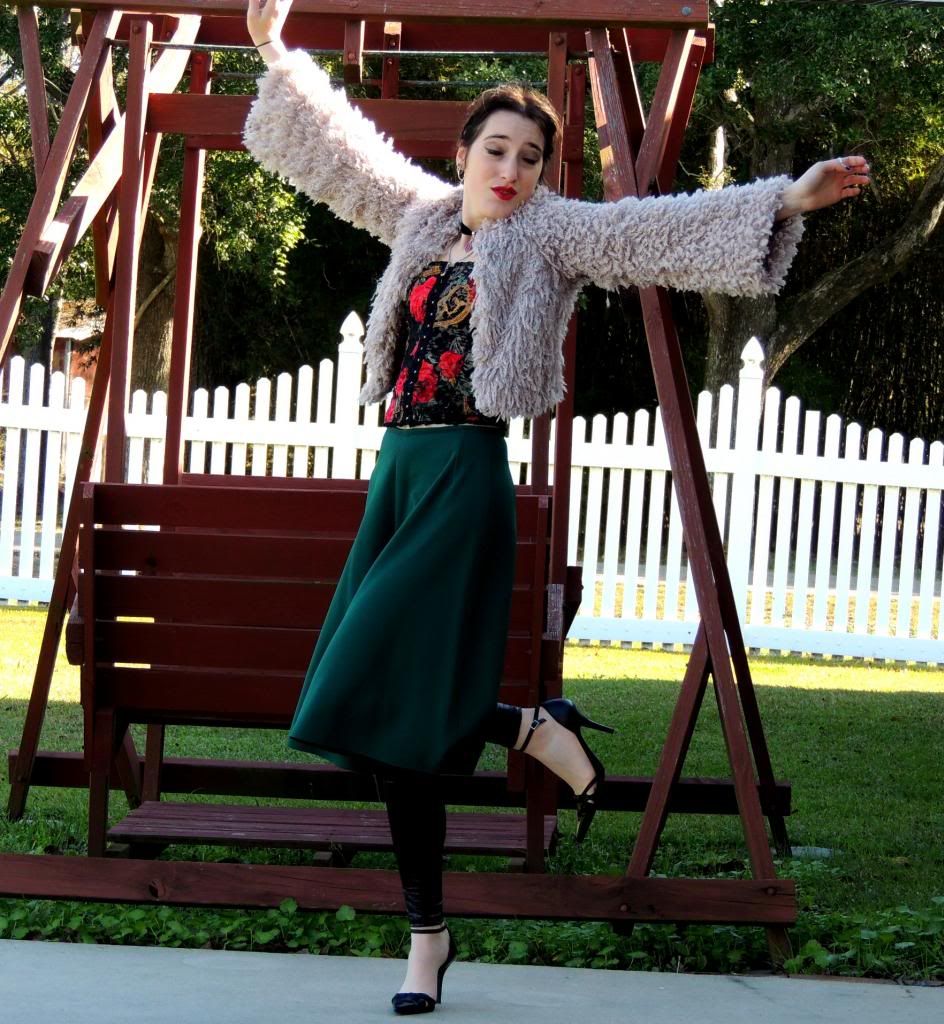 Top and Green Shorts: Thrifted / Leggings: Tobi / Carpet Jacket: Miss KL / Shoes: Thrifted, Nine West
Yes, I AM alive. I really do apologize for the lack of posts, but last week was insane. It was the week before we got out for Thanksgiving break, and all of the teachers were piling on the work. Talk about nasty.
Now that it is actually getting cold, I'm able to layer on different pieces and I'm overjoyed because of it. I got these croc leggings a while back and I love the texture on them mixed with my awkward skirt/capri hybrid. I also have a top similar to this one, but it's a solid khaki color. For some reason it just reminds me of the colonial time with the straight neckline and hooks up the front. I saw these shoes at one of my local thrift stores and it was love at first sight. I've been wanting pointy toe shoes, but I like the pointed part to be dramatically long, and most of the stores online don't have that. And of course I had to add on my furry carpet jacket to polish the look off.
I don't know if you noticed, but I also darkened my hair. I've been wanting to dye it black for a while since I was getting tired of my boring brown color. My mom did persuade me to do the dark brown/black color and I'm loving it. Now I kinda want to chop it into a sassy bob, who knows...?
Okay now onto something a tad serious. I know that my style is changing, and some people may not like it, but I assure you it's for the better. Don't get me wrong, I love dressing like a 90's kick-ass grrl or a bohemian princess, but now I'm transitioning into a more sophisticated phase. I have always loved dressing one way and then switching it around the next day. I don't think everything I wear now will be so mature because I'm still a seventeen year old. Trust me, I'm still going to whip out my overalls and space boots on occasion. I'm still a 90's kid at heart.
P.S. WHO'S FREAKIN EXCITED FOR THANKSGIVING FOOD?! (crunchy macaroni omg yas)